My facility is 3/4 of an acre fenced with 5 foot chain link. There are also two individual fenced runs 25 feet X 75 feet with water pools and lots of shade for comfort during warmer days. An indoor temperature controlled play area is also available during inclement weather.
Dogs are screened for compatibility with others and must be non-aggressive. Excessive barkers must arrive with a bark collar as I have found that excessive barking can many times create stress for the other dogs in my care.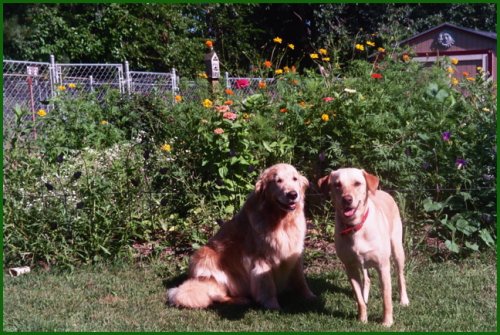 No un-neutered or un-spayed dogs/bitches are admitted unless special arrangements are made in advance.
A copy of your pet's vaccination records must be received in advance of your pet's visit with us. The following vaccinations are required along with a flea & tick preventative program (April through November):

DHLPP
Bordetella
Rabies
Heartworm preventative also recommended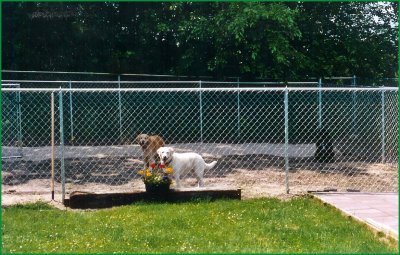 Boarding dogs have all day access to the play area as well and get lots of exercise and interaction with the daycare dogs. In the evenings, they are brought in to the home to mingle and live as part of the family in your absence.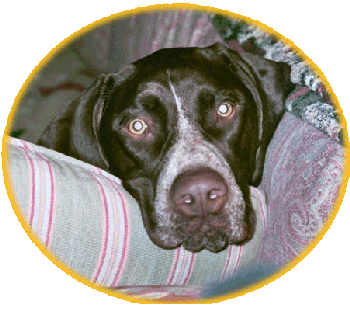 All dogs, including my own, sleep in the downstairs portion of the home at night. They are provided with a comfortable bed and crate to fit their size.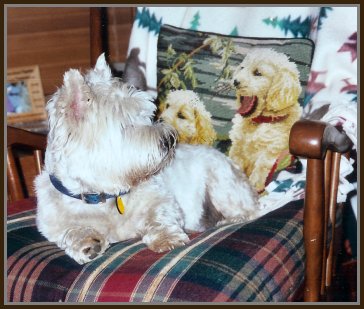 All dogs that come in for boarding must be absolutely housebroken and flea free.
It is recommended that you provide your dog's regular food to avoid stomach upsets due to sudden diet changes.
For those dogs that are more comfortable kenneled outdoors, I offer two indoor/outdoor kennels available April through November. The kennels are 5x6 inside and the outside run is 6x24' long.
Boarding fee is $30/day for boarding.
You may drop off your dog as early as 7:30 a.m. but your dog must be picked up no later than 6:00 p.m. upon your return. After 6 p.m.on the day of your return you will be charged another day of boarding.
Customer Comments:
We NEVER worried about Bella Rose when she was with you. I knew she was treated as part of your family and we will be forever grateful. Just to see how excited she gets when we turn the corner near your home makes us so happy.
Lou Stark-Shwemmer & Greg Schwemmer
Dear Diana, thank you for letting me stay at your house when my "humans" went on vacation and for taking such good care of me,
Love, Milo Eames~the dog
Diana, Thanks for taking care of "the girls" while we were away. It was nice imagining what they were doing and knowing they had a great place to be.
The Barr Family, Fort Atkinson, WI
Diana, Thank you so much for taking care of Sasha while I was in the hospital. She had so much fun at your house. We greatly appreciate it.
Kristin, Chris, Mason & Matthew Ketterhagen, Ft. Atkinson, WI