I am available April through November to come to your home to let your pets out, feed, clean-up, take for a walk, play ball or whatever your specifications are. No need to stop the mail or newspaper delivery as I will also bring them in for you as well as water your plants! Whatever your needs may be, I can take care of them while you are away.
Pet sitting is priced individually per job starting at $20 per visit so please call me for a quote.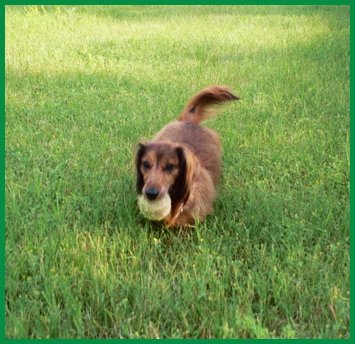 Max N. playing ball.
Customer Comments:
Thanks so much for such excellent care of our dogs.
Cindy Marsden
Diana, We are so grateful to have found you and so thankful that you were able to care for Honey during her last months in this world. Your daily visits made her so happy and gave us peace of mind knowing she was being so well cared for.
Michael & Colleen Dubin, Lake Mills, WI
Dear Diana, We just wanted to thank you for taking such good care of Koko when you came to see him and when he came to you for his grooming.
Jill & Kent Stienke, Milton, WI