My facility is 3/4 of an acre fenced with 5 foot chain link. There are also two individual fenced runs 25 feet X 75 feet with water pools and lots of shade for comfort during warmer days. You can click on the photos below to see the outdoor daycare areas.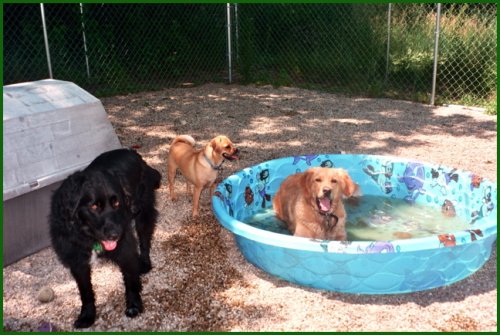 An indoor temperature controlled play area is also available during inclement weather.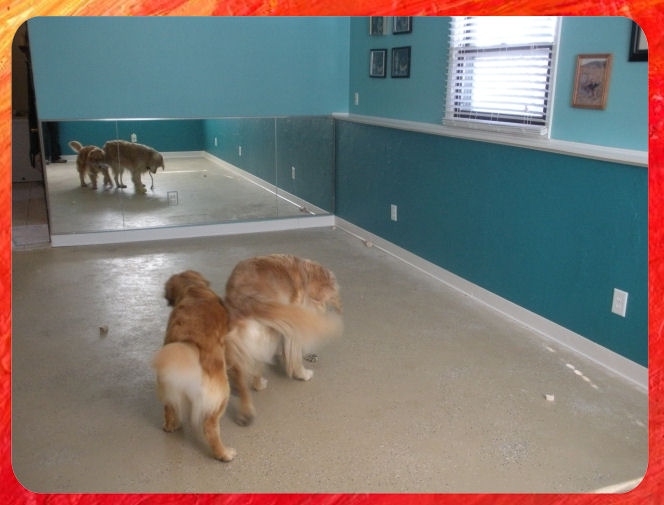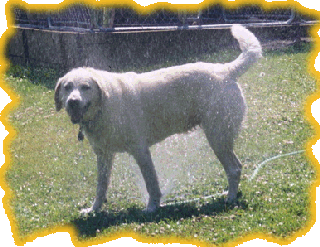 Callie enjoying some water playtime.
Dogs are screened for compatibility with others and must be non-aggressive. Excessive barkers must arrive with a bark collar as I have found that excessive barking can many times create stress for the other dogs in my care.
Typical group playtime.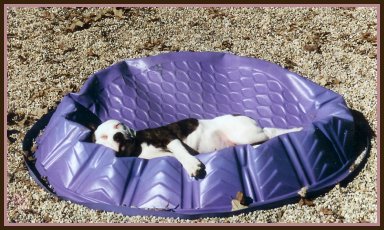 No un-neutered or un-spayed dogs/bitches are admitted unless special arrangements are made in advance.
A copy of your pet's vaccination records must be received in advance of your pet's visit with us. The following vaccinations are required along with a flea & tick preventative program (April through November):

DHLPP
Bordetella
Rabies
Heartworm preventative also recommended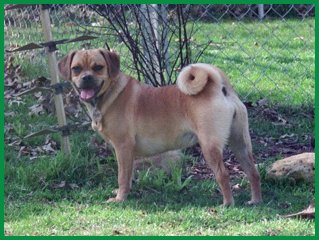 Shelby Swantz comes to day care Monday through Friday.
Day care hours are 7:30 a.m. to 6:00 p.m. Monday through Friday and Saturdays are 8 a.m. to 5 p.m. by advance appointment only.
We are closed on Sundays.
Fee for day care is $20.00 per day*.
Cost for 1/2 day, maximum 5 hrs., is $15.00*.
*Additional $10 charge per hour for picking your dog up after 6:00 p.m.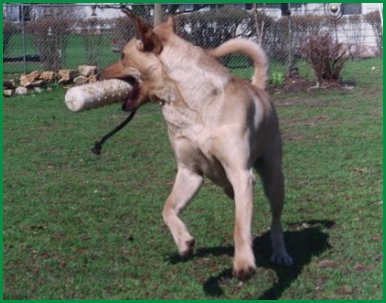 Riley playing with his bumper at day care.
Mugs and Shelby love to play together.
CUSTOMER COMMENTS
Jim and I want to thank you so much for taking care of Ella during this transition period as well as the past year. With your care and training Ella has turned into a great pet and a wonderful part of our family.
Jim & Lori Ortner
Thank you for giving us the heads up when Wally seemed to have a urinary problem. With your help we have been able to clear things up and make him well again.
Tony & Connie Swantz
Taking Chase to the Pettn' Nanny is like taking him to visit his best friends. It is clear that Diana loves dogs and that she treats each one as part of her family.
Steve Tesmer and Jill Kessenich